CHARACTERISTICS
Rego will promiss 4 upgrades
Upgrade Workability
You can easily swith the amount of air in the paste just by pushing button
REGO can emulsify several different ingredients evenly in short priod of time
Workable for small amount too — even from one egg
Workable for big amount of ganache at one time
You can adjust speed and angle of whipper in single step form
You can use various size bowls you have for REGO
Barely make noise while working. Improve working environment.
Upgrade Productivity
The condition will be the same in upper part and lower part in the bowl, which improves yield rate.
Help chefs with short experience to avoid "too much mixing".
Upgrade Quality
Sponge cake — Stable texture
Genoise — Crunchy yet melt fast in your mouth
Meringue — Refined air bubbles which ensure easy melting in mouth
Butter paste, Rhomasse paste — applicable to unconventional composition of ingredients
Ensure good emulsification, moist texture
Upgrade Profitability
Improve yield rate even with the same ingredients composition, which lowers the commodity cost. (Meringue, Rolled cake, Baumkuchen, etc.)
Upgrade the quality, which assists production of signature products.
Help chefs to develop new products, which will be the new source of profit.
Beating & Stirring Mixer vs Planetary Mixer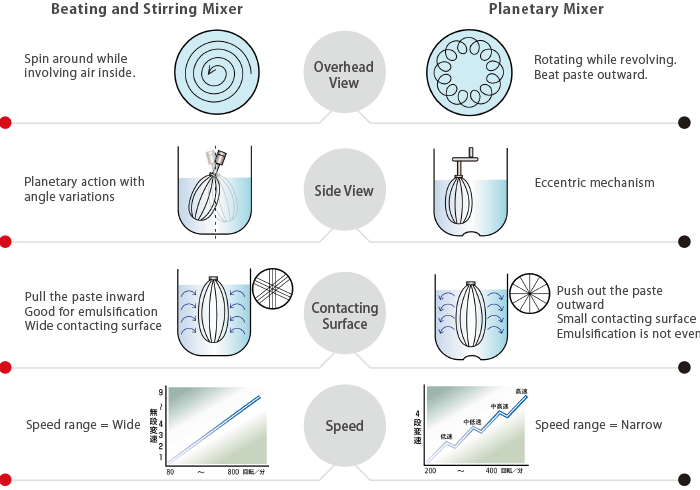 Mixer who Works as Your 'Hands'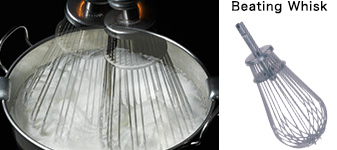 Beating
The movement is good at involving lots of air into paste, which is perfect condition for delicate fluffy whipped cream and meringue. It homogenizes the paste, speeds up emulsification.
Recommended use: meringue, Japone, Rhomasse, jenoise paste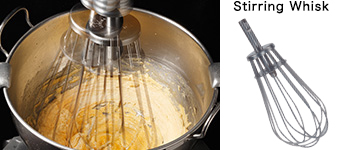 Stirring
Stir the oils to emulsify and make smooth creamy paste. Keep emulsifying while adjusting the condition of the paste.
Recommended use: pound cake, madeleine, financier, baked sweets
There are also attachments for kneading, grating (for nuts), and straining (for fruits puree).