ROTEC BREAD SLICER
ROTEC 526
Best partner for small shops to major chain shops
Safe and clean, ROTEC BREAD SLICER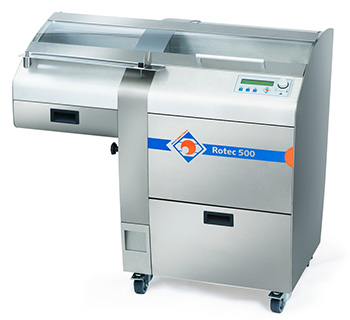 Safe and Clean
Cutting is done in the cabinet with protection cover, very safe and clean.

Characteristic Blade
Very small amount of bread crumbs, very smooth cutting surface
Register 109 kinds of programs, hard or soft the bread might be
Adjustable by 0.5mm (3~25mm)
Cutting movement 145 times/min. very efficient
SM60S
SM2
SM3
phase/voltage
single phase
230kw/1.1kw
body measurement
(mm)
height
1090
1090
1105
width
827
1127
1127
length
705
705
735
weight(kg)
210
230
230
maximum size of bread
(mm)
height
140
140
150
width
350
500
500
length
230
230
265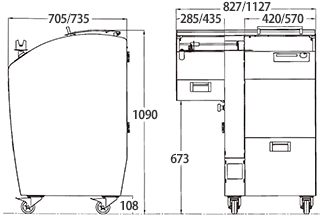 BREAD CUTTING PLANT
Planet 2000/3000
ROTEC BREAD SLICER for big facilities Installable even for factory production line
Original Bread Slicer, easy to customize
(Approx. Size: Length 5290mm / Width 2150mm)

Planet 2000
Mechanically controlled slicer with circular blades.
Flow supply system makes possible to slice any type of breads.
Various range of extension: Automatic bread supply, metal detector, infrared disinfect installation.
540 slices/minute (1 lane)
Planet 3000
Servomotor controls machine with high-spec circular blades.
Freshly baked bread with core temperature around 40℃ can also be sliced.
Complete automatic bread transportation, Infrared disinfect installation, Servomotor controls, made of stainless.